Spectroscopic Ellipsometer SE200BM-M450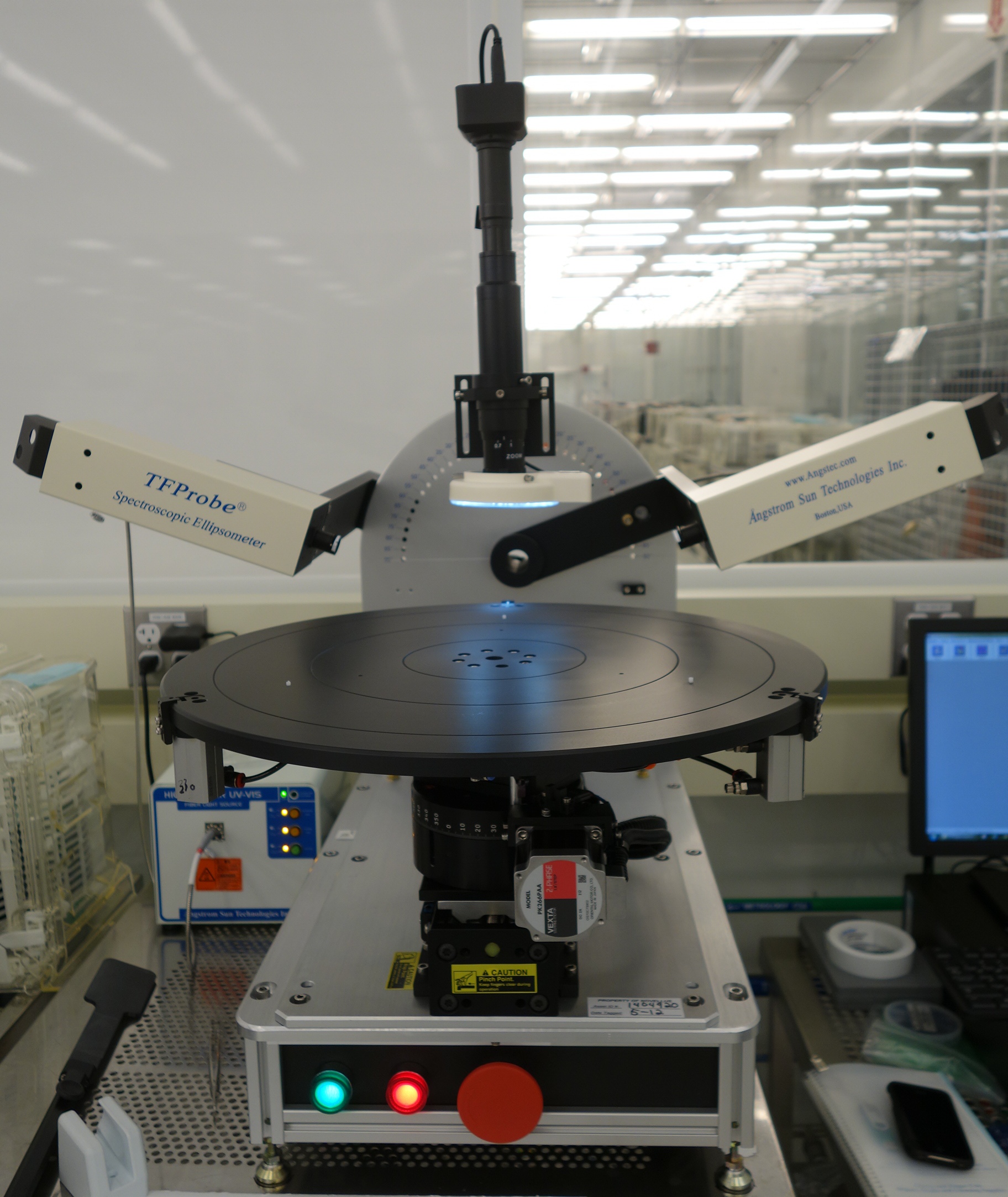 In 2008, Angstrom Sun Technologies Inc was invited to join next generation 450mm Semiconductor processing development effort led by International Sematech Manuafacturing Initiative (ISMI). In May 2010, the first 450mm spectroscopic ellipsometer tabletop tool (SE200BM-M450) was delivered and installed at Hitachi Kokusai Electric Inc., in Toyama, Japan. The 2nd 450mm tool was installed at Sematech in Albany (Now G450C) in June 2011. After that. several 450mm tools have been installed at Applied Materials, Lam Research.....
A lager mapping stage and wafer safety handler are developed and implemented into SE200BM. More precious positioning incorporated with vision system ensured 1.5mm edge exclusion capability. With special consideration, a wafer wand operation during loading/unloading wafer is made possible. Simple production-like operation interface under opertor mode makes one-button-click to see results practical.
Features:
Operated with Window based software
Advanced optics design for best system performance
Safe wafer handler features
High Power DUV-VIS light source for broad band applications
Array based detector system to ensure fast measurement
Measure film thickness and Refractive Index up to 12 layers
Capable to be used for real time or in-line thickness, refractive index monitoring
System comes with comprehensive optical constants database and library
Advanced TFProbe 3.3.X Software allows user to use either NK table, dispersion or effective media approximation (EMA) for each individual film.
Three different user level control: Engineer mode, system service mode and easy user mode
Flexible engineer mode for various recipe setup and optical model testing
Robust one click button (Turn-key) solution for quick and routine measurement
Configurable measurement parameters, user preference and easiness of operation
Fully automatic calibration and initialization for system
Precise sample alignment interface from sample signal directly, no external optics needed
Precise height adjustment
Compatible for 300mm wafer application
Various options, accessories available for special configurations such as mapping stage, wavelength extension, focus spot etc.
2D and 3D output graphics and user friendly data management interface
System Configuration:
Model: SE200BM-M450
Detector: Detector Array
Light Source: High Power DUV-Vis-NIR Combined Light Source
Incident Angle Change: Preset at 70 degree (but manaully adjustable)l
Stage: 450mm Automatic Mapping stage with Rho-Theta configuration
Software: TFProbe 3.3.x
Computer: Intel Duo Core 2.0 GHz
Monitor 22" Wide Screen LCD
Power: 110– 240 VAC /50-60Hz, 6 A
Warranty: One year labor and parts
Specifications:
Wavelength range: 250 to 850 nm
Wavelength resolution: 1 nm
Spot Size: 1 to 5 mm variable
1.5mm Edge Exclusion Capability
Incident Angle Range: 0 to 90 degree (preset at 70 degree)
Incident Angle Change Resolution: 5 degree interval
Sample Size: up to 450 mm in diameter
Substrate Size: up to 2mm thick
Measurable thickness range*: 0 nm to 20 µm
Measurement Time: ~ 1s/Site
Accuracy*: better than 0.25%
Repeatability*: < 1 Å (1 sigma from 50 thickness readings for 1500 Å Thermal SiO2 on Si Wafer)
Options:
Photometry measurement for Reflection
Micro spot for measuring small area
Mapping X-Y Stage (X-Y mode, instead of Rho-Theta mode)
Wavelength extension to further DUV (190nm) or IR range (1700nm)
Combined with MSP for patterned sample measurement with digital imaging functions
Applications:
Dielectrics (Oxide, Nitride...)
Photoresist
Metals, TiN, W, TaN
Semiconductor: aSi, Poly, SiGe....
Various carbon films
Application Examples:
Note:
System configuration and Specifications subject to change without notice
* Film property, surface quality and layer stack dependent
Customized system available for special applications
TFProbe is registered trademark of Angstrom Sun Technologies Inc.